2020 Feral Rosé of Cab Franc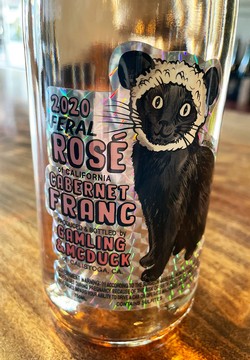 Our advice to you:
Open a bottle of our 2020 Feral Rosé. Make yourself a lovely salad. Pour yourself a big fat glass of Rosé. Take the salad outside, maybe you have a little bistro table? That would be ideal. Place the salad on the table. Look at that salad... very nice indeed. Samantha said a couple cherry tomatoes will really make your salad pop- and she was spot on. Great red color on those cherry buddies. You bought the extra fancy shallot vinaigrette- gonna be worth it.

What's that sound? Ha! It's silence- that's a rare commodity lately. This table is great right? Dappled sunlight. You haven't tried to call for Alexa from this far away. Wine bottle's already here, right there on the table. You haven't finished your first glass but why not just fill it up- not all the way- You're not a philistine Samantha! Whatever! "Hey Alexa," you shout, "Play the Fugees!"

That worked. Good to know. Look at that salad. It really is quite a salad. It's gonna go great with the wine. Take another big sip- huh, is basil a weird note for wine, because maybe you get a little basil. Maybe it's just the smell of the tomatoes. Tomato leaf is a wine note. Are the Fugees out on tour? Mental note: google Fugees tour. Time to refill that glass.

Almost don't even want to touch that salad. It's so perfect. Do you even want it? really? Maybe just a tomato. You pop a cherry tomato in your mouth- Wow. They are really good. Samantha probably doesn't know shit about the Fugees.