2016 C'est la Bérézina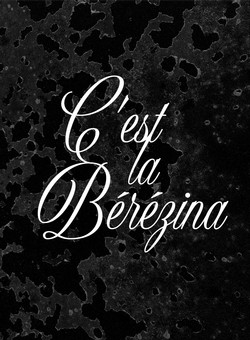 Life take turns... We say lean into them.
C'est la Bérézina is a french phrase that refers to the catastrophic defeat suffered by Napolean's Army as it retreated across the Russian river, Berezina. Not only had the invasion failed, but the retreat was a catastrophe. Of course that's just the origin of the phrase- In today's parlance it's used to winkingly acknowledge smaller disasters... Near the end of the party you might open the refrigerator to discover you're out of wine- "C'est la Bérézina!"
These are serious bubbles- we'll get to that, but in thinking about Sparkling Wine we couldn't help but notice how people drink it. Always in celebration- and that's great, but the celebrations are so obvious. Yeah new baby... pop a bottle, makes sense. We say celebrate it all, and there's truly nothing more cathartic after a catatrophe than the acknowledgement that that's life, shit happens. You pick yourself up off the floor, tip your hat to the Gods, and take a moment... and in that moment, you're very much alive, you're almost brand new yourself in a way... It's a perfect time for a glass of Bubbles. These are those Bubbles.
The wine itself is a pretty rare bird. A Blanc de Noirs of Cabernet Franc. In 2016 we had intended to start a Sparkling Chenin program. We traveled to the Loire and painstakingly researched the idea- hard work indeed. We came away less than enthusiatic, which is dumb, there are wonderful Sparking Chenins out there. Maybe it was the year, I don't know, but we decided to pivot and Gabe suggested we jump on our other love, Cabernet Franc.
Three years in the making, this 2016 Blanc de Noirs of Cabernet Franc is a Methodé Champenoise, Brut Nature, Zero Dosage Sparkling Wine that was disgorged in August of 2019.
Today it's all rainwater minerality and honeysuckle with a cherry blossom finish- but this thing is alive and has architecture, and tomorrow's spires promise even more complexity and elegance.