2017 Mangels Chenin Blanc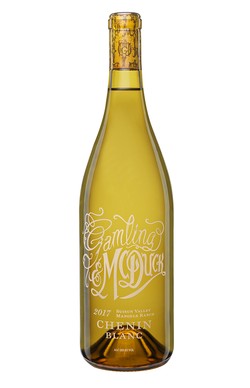 2017 was a rough year in Napa. We brought in our Chenin on September 2nd- a month later the Tubbs, Atlas, and Nun fires were ravaging Napa and Northern CA.
Winemakers don't refer to vintages as "good" or "bad". We say they're "easy" of "difficult", and 2017 was far and away the most difficult vintage we've ever had. It was, as tragedys always are, a wake up call about what we have and what we take for granted. Harvest has always been hard work, but it's joyful work, There was no joy once those fires began, just work, and we were lucky that was all it was.
We brought in the grapes at 20.3 brix, with a pH of 3.3. My notes say specifically that it was a clean pick, which in Chenin terms means the clusters were pretty, uniform, and healthy. Chenin clusters are tight and it makes moisture an issue late in the season, so there's almost always a little Botrytis (mold). We like the character it adds, but like the triangle in an orchestra, we like it sparingly.
This wine feels clean to me as well. Mangels Ranch is nestled into the SE corner of St. George Mtn Range, and it gets bay breeze traveling from San Pablo through a gap in the N. Carquinez Hills. When you walk this vineyard the air smells crisp and salty. In 2017 that minerality stuck, and when I drink this it shines through. It has great citrus notes and feels bright. Not like the sun or daylight, more like a lightness of soul.