2017 Pickberry Cabernet Franc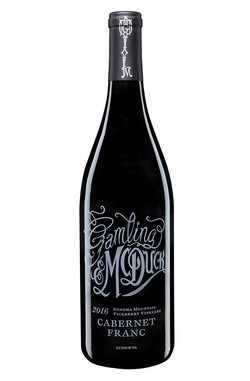 The 2016 growing season was pretty uneventful on the northeastern slope of Sonoma Mountain. It was even and lovely. The jackrabbits and the hawks that hunt them were often caught on camera having peaceful tea parties in the vine rows. Tiny little tea-cups.

We harvested on September 23rd, a little early for us, but when the flavors are there we pounce. The fruit came at 22.4 brix and a pH of 3.56 and it looked amazing. I have multiple notes in my fermentation log about how good the fruit looked- I was evidently smitten. We followed our default winemaking practices without a need to deviate. Which is to say, I got out of the way. Native yeast. No additions. Racked to barrel post-primary. Racked and back post ML. One brand new french puncheon (500L) and nine 225L neutral barrels put us in our typical range of 8-12% new french oak. We aged in for a hundred years at the bottom of the Pacific Ocean, hauled it up with the help of James Cameron, and put it in bottles.
In tasting it now I can't help but think this is how this vineyard most purely expresses itself. The herbaceousness is integrated, the fruit is apparent but woven in. We've had hotter vintages that express more blue fruit, and longer vintages that deliver darker fruit- The 2016 leans a little more wild and red. The acid contributes lift- it's engaging and elegant. I believe this might be my favorite vintage since 2013.