2018 Mendocino Cabernet Franc 375
Do Not Sneak This Wine Into Movie Theaters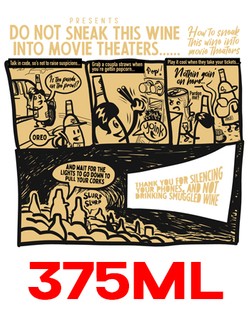 Back in the day Gabe (Gamling) and I used to sneak 375s (half bottles) into movie theaters to enhance our viewing enjoyment. It was such a lovely tradition that we needed to share it. For those of you that've never partaken in this brand of rebellion we've designed the label to be a nifty "how-to" comic strip. For the more criminal element of our constituency we ask this, "When's the last time you had a fresh and fruity Cabernet Franc at a movie theater?"

We had 3 different 2018 Cab franc lots in the cellar that were elligible to become this wine... We chose this yummer Mendocino County wine because it had such a lift. Sure it's juicy and easy and perfect for popcorn- but lurking in it's potential (tho unlikely) adolescence is a hint of mint julep and something... darker... something sinister...
Fairly typical winemaking... checking my notes and it was all pretty easy-peasy in the cellar. Our normal red routine of low temps, long fermentation, and zero additions. Full ML and racked just the one time, otherwise unfiltered. It's obviously a blast to drink today, but we think it'll be fun to age for a bit as well.
Pair with popcorn... rasinets if you're into that sort of thing.