2019 Sundown Cabernet Franc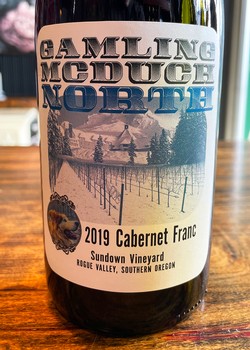 Gabes Vintage Notes:
This stunning vineyard is located in the Griffin Creek area of the Rogue Valley at about 1600 feet elevation. The Cabernet Franc block is on Gregory silt loam soils and has a steep SE aspect great for intense morning light and cooler afternoons. It was harvested by hand on 10/5/2019 and destemmed into 1 ton fermentation bins and tucked away for a long, cool, native fermentation. The fruit was dark and highly aromatic of boysenberry pie once the fermentation began. We stirred it gently once per day and pressed it at approximately 2 grams/L into settling tanks and then 20% new and 80% neutral French Oak. The wine went fully through a native ml in barrel and was racked off of it's lees and returned to barrel in early December. At this young point in its life it was very punchy and intense and we were incredibly happy to watch it develop into this elegance after 22 months of barrel aging.