Logo Tee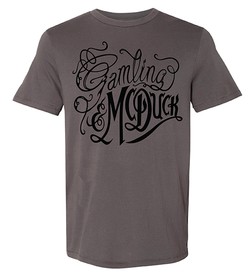 Alright, bear with me because this is weird.
I own an unrelated t-shirt that was printed incorrectly. The ink cracked and flaked off. It's one of my all time favorite t-shirts. So I asked the super smarty-pants printers at Red Threads (google them, they're rad) to replicate it.
They nailed it. So this is our logo, printed in black and cured (intentionally) incorrectly so that it (mostly) flakes off after about 3 washes. Underneath the black logo is a screenprinted (this ones not coming off) white Gamling & McDuck logo.
What you want to do is admire it when you first get it, and then stretch it (gently, you'll get it) to crack the ink. You can pick at it, leave it alone... every shirt is going to settle into it's own unique self.
We also printed it on a super soft, super high quality Alternative Apparel T-shirt.
So cool.