Poor and in Love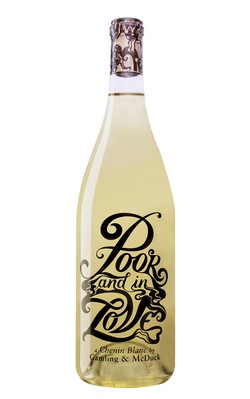 This phrase and the idea for this wine came out of a conversation we had in the first month of the pandemic. In light of the dismal forecast of the year ahead we realized two things:
1) Our wines have always been reverse engineered from the wines we wanted to make, not the market that would make us. Those artistic desires have always informed their final price, and while still modest, our wines are most often designated as restaurant wines- a little too expensive for the grocery store shelf. In April 2020, with our Tasting Room and the restaurants closed, that abscence in our portfolio became an oversight.
2) We romanticize Bohemianisim. We've always liked our wines Right Bank and our philosophy Left Bank. Amongst our artsy Moulin Rouge tenets of beauty, truth, and love, you'll find freedom, specifically the kind born of frugality and simple living. And we're hardly alone- Every winemaker or connoisseur we meet tells a tale of an inexpensive and beloved house wine of their early days. Like a cassette tape stuck in your shitty car's stereo, you love it because it was the background music for so many adventures- But we think it was also because by answering the question of what you were going to listen to, it gifted you extra time to see the world around you.
We also have those stories, and we cherished those wines- But it turns out we haven't been making that wine... Well screw that.
Out of those days, and this lost summer, we'd like to introduce, Poor and in Love. An affordable and delicious house wine designed for the background of your next old photos. Not meant to be a Pop Queen of the glitzy wine world, but a charasmatic supporting character for your life, and a reminder of who we are.