The G&M Logo TEE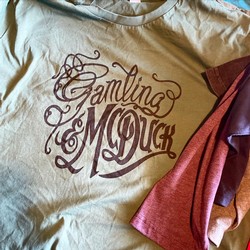 They're totally choice.
They're 100% original every time.
The tees are the softest bestest, oh my glob- They're just aces, and I may not have mentioned it yet, but they're one of ones. I mean maybe frame it and don't even wear it. But then you won't feel the flow of all that awesomeness #decisionsdecisions
There are 2 ways 2 acquire (I know Princey right? But I'm gonna leave it, that's where I'm at today) one of these Mona Lisas:
Stop by our Downtown Napa Tasting Room and get all up in that clothing rack.

Order it online-But hold up, here's the deal with that- You NEED to include the following info in the comments section of your order: A: Size B: Preferred tee color (not the ink, think shirt color). And then you know what? YOU GET WHAT YOU GET. All caps seems like a lot there, but again I'm gonna leave it, because for real, you can ask for whatever specific thing you want, but it might be gone. So if you're ordering online, you're rollin the dice. We'll get as close to making your dreams come true as we can, but you're gonna have to get zen about this unless you can pop by the shop.